Show subpages
Lodging – Zlobice pension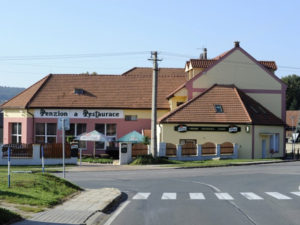 Visitors can find Zlobice guest house not far from a beautiful town Kroměříž, called 'Athens of Haná', located in a geographical and historic centre of Moravia.
The town is mainly sought for its cultural wealth. In 1997 Kroměříž was declared the most beautiful historic town in the Czech Republic. The complex of historic gardens and The Archiepiscopal Chateau were added to the UNESCO World National and Cultural Heritage List in December 1998.
Visitors will find our guest house just 5 kilometers far from Kroměříž. It lies in a peaceful village Zlobice, 228 meters above sea level. In the centre of the village, at the place of the oldest known settlement by the left streambank, is a huge building – a former rustic homestead – with a house number 45. In the beginning of 90's a restaurant facility with a cafeteria and a large hall called "America" were found there.
Briefly about our guest house
In years 2009 – 2011 the current owner made the complete modern reconstruction of the whole premises and its surroundings. New, comfortable, esthetically attractive and variable seating capacity as well as comfortable relaxation background and entertainment were created during the reconstruction.  The whole area was changed into a harmonious unit, respecting the guest needs.
Dining and lodging
There are public restaurant facilities on the ground floor with a possibility of daily dining. The guests are allowed to use a newly rebuilt saloon with a seating capacity of 30, where breakfasts, lunches and dinners are served. The saloon also serves as a place for weddings, parties, bashes, meetings, conferences, seminars etc. On the ground floor there is also a big saloon with 150 seats which can be used on various occasions such as concerts, business gatherings and trainings, product demonstrations, theatres, balls, costume parties, kids parties, film projections, dinner parties, dance parties, discos etc. We can organize a wedding party, graduate re-union and other celebrations. With us you can also book a grill party or pig-slaughtering or order a music band.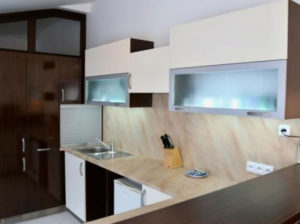 The first floor was re-built with an attic build-in. To fulfill our customer demand new accommodation capacities were built. The first floor offers cosy rooms for families, working groups, sports teams, groups of friends etc. for a friendly price, corresponding to the Standart *** classification. You will find spacious apartments for 4-6 persons there, all with kitchen facilities and a separate bathroom. The second floor offers luxurious and modern apartments for 2-4 persons (the larger ones with kitchen facilities) with an additional bed and other double rooms with an additional bed with the First Class **** equipment. Each room here is furnished in a specific design and dominating colour. All interiors can be viewed in our photo gallery.
At the place of former agricultural and technical premises within the grounds we plan to build a splendid sports hall and wellness centre not only for our guests but also for other visitors longing for sport opportunities and relaxation. There will be 2 bowling alleys, Whirpool, sauna, infrasauna and massages.
Similarly, a large parcel, adjacent to the guest house, was adjusted to the guest and customer needs. There is a modern tennis court with an artificial turf, multifunctional playing facilities for volleyball, football tennis, 5 a side football, badminton etc., natural lake for swimming, outdoor playing corner and private roofed car park. All exteriors can be view in our photo gallery. You can rent bicycles, deckchairs, tennis and badminton rackets, bows and other sport equipment. Green areas in the premises are planted with attractive flowers, which were chosen with respect to a possible presence of children (thorny and poisonous plants were excluded). In contrast, bushes giving fruits are at your disposal. There is a herbal garden for the purposes of our kitchen. The whole area is monitored by cameras.
The guest house area and its facilities are suitable for families with children, business stays and trainings, sport workshops, tours. Lodging and dining capacities are sufficient for a whole coach tour. At the request of our customers we can arrange trips or transport to Kroměříž and surroundings for the purpose of cultural programmes, including tickets.
Clean environment and maximal customer treatment are our priorities.
We follow a motto:
'Allways happy is your spouse in Zlobice Guest House'.
Sport and relaxing equipment
outdoor lake

tennis court

volleyball, football tennis and 5 a side football facilities

bicycle rental

rocking horse, swings, climbing frames, sendpit for kids in the garden

2 half equipped playrooms in the area

WiFi access

horse riding and ponny riding trips – a ranch within 15 kilometres

in-house massages at the request of our customers
Room offer
Our guest house has 11 rooms or apartments with the overall capacity of 41 persons. A rough list can be found in the selection below the text and detailed information will show after clicking on the price list. There is also online reservation available. After completing some essential data, the system will automatically reserve selected rooms.
Apartmán 8+1 s kuchyní
Apartmán se 6  – 9 lůžky, vybavenou kuchyní  a 3 ložnicemi ( 2 neprůchozí, 1 průchozí ), 1 sprcha, 1 WC, situovaný v přízemí objektu. Vhodné pro větší skupiny nebo rodiny, např. cyklisty, pro méně náročné klienty​
Apartmán 4+2 *** s kuchyní
Apartmán ***
Trojlůžkový pokoj 3+0 s kuchyní
Apartmán ***+ s novou koupelnou
Apartmán **** s kuchyní
Dvoulůžkový pokoj ****
Apartmán **** s wellness
Dvoulůžkový pokoj s wellness ***
Dvojlůžkový pokoj ***
Apartmán ***+ s rohovou vanou
Apartmán 1 Kroměříž, Kovářská 122 (vstup z Riegrova náměstí)
Apartmán 2 Kroměříž, Kovářská 122 (vstup z Riegrova náměstí)
Apartmán 3 Kroměříž, Kovářská 122 (vstup z Riegrova náměstí)
Apartmán 4 Kroměříž, Kovářská 122 (vstup z Riegrova nám.)
Apartmán 5 Kroměříž, Kovářská 122 (vstup z Kovářské ul. 123)